Wellness massage in Copenhagen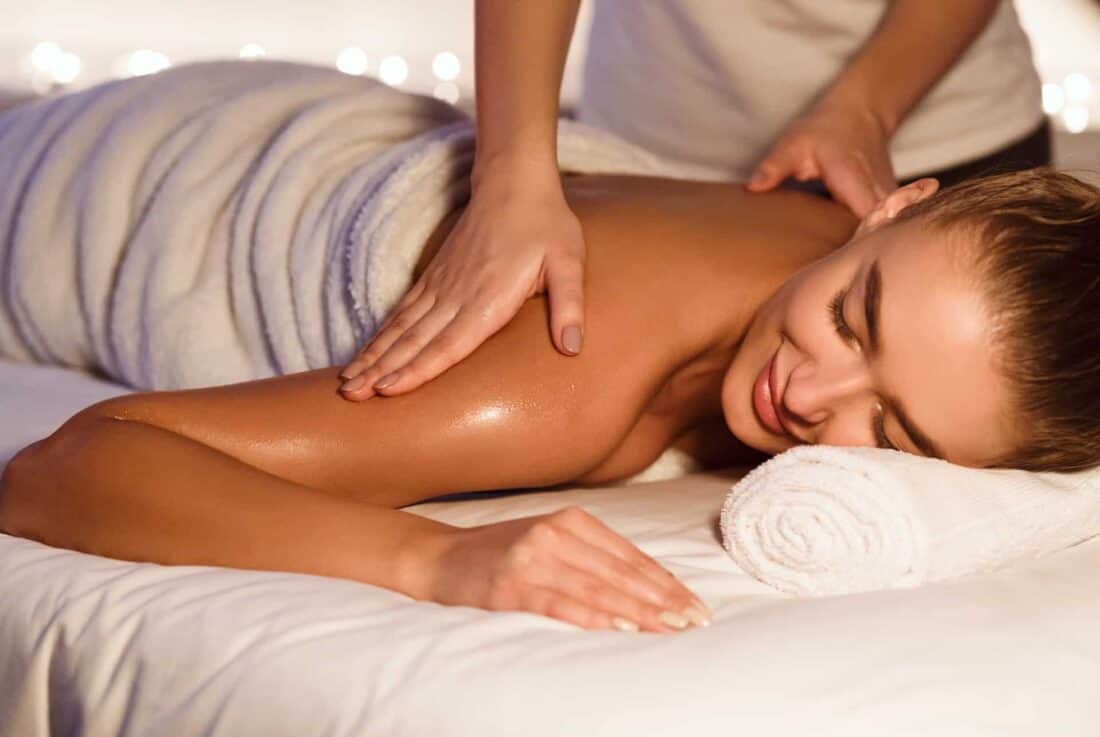 With wellness massage you will be pampered from head to toe with a delicious and de-stressing massage which provides increased well-being. We provide a relaxing and calm atmosphere so you can focus on enjoying the massage and maybe get a break from a busy day.
Sports Massage in Copenhagen
Sports massage is an in-depth muscle massage that prevents, relieves and treats pain and injuries in joints and muscles. Sports massage loosens up tense muscles and increases blood circulation, thereby improving recovery. In addition, sports massage can also help you rehabilitate from a muscle injury.
"With computer work every day, I usually get a lot of neck pain. Now I get a massage every 14 days and my neck pain is gone. Really great massage and easy to get to by public transport. Highly recommended. :-)"
"Effective sports massage."
"As a runner, I regularly need massages to recover properly. Copenhagen Physio helps me get ready faster and have a greater amount of training. Really effective sports massage!"
"I can clearly recommend getting a massage at Copenhagen Physio if you are looking for a relaxing and calm massage. It's very nice. Nice place with good hygiene. 5 out of 5 stars."
Would you like a massage?
We offer professional wellness and sports massage of the highest quality. Our masseuses are trained from recognized massage schools and are even trained as physiotherapists. It is your guarantee of the absolute best quality.
Our ambition is to give you the best massage in Valby and Copenhagen.
You can book an appointment by clicking the orange button below.
You can also call our secretary and book an appointment by phone +45 60 55 44 50.
If you have any questions or are in doubt whether we can help you, you are very welcome to write to the individual therapist by e-mail.
Would you like to know more about massage?
Massage can be effective in relieving pain and increasing recovery after exercise. The massage loosens the muscles so that the tension and thus the pain becomes less.
Overall, there are several reasons why physiotherapy massage is good for the body. Massage initiates several physiological processes which have different effects. Massage increases blood circulation locally in the muscles, causing heat. The increased blood circulation supplies oxygen and nutrients to the muscles, while removing potential waste products through the blood. The increased blood circulation even has a positive effect on the lymphatic system, which helps to cleanse and filter the blood.
Massage also works by the body secreting various hormones, including oxytocin, dopamine and serotonin. Oxytocin is also called the love hormone or the hugging hormone, and is secreted due to the constant touch during the massage.
Dopamine and serotonin increase happiness and can have a positive effect on mood. Serotonin is found i.a. in happiness pills and dopamine are known as the reward hormone. Massage also helps to lower blood pressure and inhibit the secretion of the stress hormone cortisol. Overall, massage thus has a positive effect on body and mind, which provides increased well-being.
Copenhagen Physio offers massages in Copenhagen and Valby.
We also offer sports massage in Copenhagen, which is an in-depth massage that focuses on loosening tense muscles and removing waste products from the muscles. Sports massage is primarily aimed at exercisers and athletes who want to loosen their muscles after a hard workout. The sports massage helps to improve recovery and allows athletes to cope with a larger amount of training without being injured. Sports massage has a soothing and softening effect, which is especially good for e.g. runners and triathletes, who typically have very tight muscles at the back of the body.
Sports massage is good if you want to be addressed or if you have specific pain conditions related to your sport such as muscle injuries. During sports massage, one treats i.a. the trigger points in the muscles, which are small sore areas that can cause radiating pain. When the trigger points are stimulated, the muscle loosens and releases tension. Trigger point massage is effective, but can also be a hard time as pressure is applied. However, it must be said that it is always you who decides and controls how hard the therapist must press.
Sports massage is based on the classic massage and is effective in increasing recovery as well as treating sports injuries, muscle pain, joint pain and muscle tension.
What is connective tissue massage?
We also offer connective tissue massage in Copenhagen. Connective tissue massage is a gentle treatment in which the masseur, with light pressure, goes in depth and treats and loosens the connective tissue. The connective tissue is located under the skin and runs through the entire body from top to toe. Here it lies in and between the muscles as well as the internal organs, which is why it helps to transfer power from one body part to another.
The connective tissue between two muscles can over time "stick" together, whereby one muscle pulls the other with while moving. If the connective tissue sticks together or becomes too tight, it results in reduced mobility, which can result in injuries, poor posture and pain. With connective tissue massage, the entire connective tissue system is loosened, which includes muscle membranes, tendons, subcutaneous tissue and ligaments.
Our masseur at Copenhagen Physio, Mette Bertelsen is specially trained in connective tissue massage and has extensive experience with this type of treatment. You can therefore safely book an appointment with Mette if you want to have treated low back pain, sports injuries, sprains, joint pain as well as stiffness and reduced mobility.
What is wellness massage?
Wellness massage is a gentle and relaxing form of massage, which is about giving you a break in a stressful everyday life. Here you will be pampered from head to toe with a delicious and de-stressing massage, which provides increased well-being.
During wellness massage, the masseur uses long and gentle massage strokes together with oil, which has a calming effect on body and soul.
During wellness massage, you have the opportunity to release all worries and just focus on relaxing and clearing your head. Our facilities are new and delicious with i.a. heat in the couch so you lie well without freezing in the winter.
Massage at Copenhagen physio
We offer massages in Copenhagen and Valby. Copenhagen Physio is located in Spinderiet, a few minutes' walk from Valby Station.
Our masseurs are continuously trained and are always ready to help you with a smile.